How to Clean Tile Grout on a Budget
by Elizabeth Carrillo 06/22/2022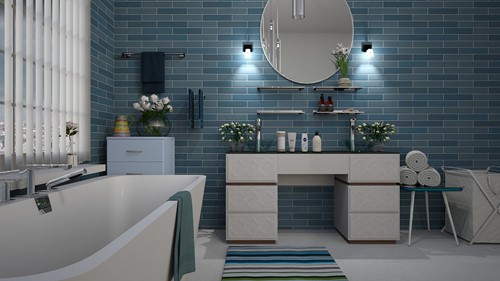 If you have tile in your kitchen or bathroom, you've likely had to contend with stained or dirty grout. While tile itself is easy to clean, the space between the tiles requires more effort. However, you don't need expensive chemicals or cleaning services to make the grout look brand new again. Here is how to clean grout with household items.
Supplies You'll Need
Dish soap
Baking soda
White vinegar
Warm water
Stiff scrub brush or toothbrush
Sponge
Cup or small bucket
Spray bottle
Grout sealer (optional)
Step by Step Grout-Cleaning
This DIY grout cleaning strategy has multiple steps to maximize the effectiveness of your tools. Here's what to do:
Fill a cup or small bucket with warm tap water and a few drops of dish soap.

Add a tablespoon or more of the baking soda and mix thoroughly.

Fill your spray bottle with vinegar for easy application. Then, wet the grout lines by spraying the vinegar. This will give you just the right amount of vinegar without covering the entire floor and causing a hazard.

Take your soap and baking soda mixture and carefully pour it onto the grout lines where you added vinegar.

With a scrub brush or hard-bristled toothbrush, scrub the combination of ingredients into the grout. Begin by working in a small area to determine the effectiveness of the mixture with your grout's level of staining. This will help you figure out whether you need to opt for a stronger commercial cleaning agent instead of your DIY mixture early on, before you attempt to clean the entire room or wall.

After giving the grout lines a good scrubbing, let everything sit for 5 minutes.

Scrub the grout a second time after you've waited for the mixture to work its magic. You should hopefully already notice some of the staining coming up from the grout.

Use a sponge to wipe up and absorb any excess vinegar and water. Try to get the surface as dry as you can.

If you have grout sealer, you can apply it along your freshly cleaned grout lines once everything has dried. You'll need to let the sealer dry for another few hours—consult the included instructions for specifics.

To get rid of any leftover vinegar scent, do a light cleaning of the tile with your normal household cleaning products or with warm water. Now you should have fresh-looking grout lines in your wall, backsplash or floor without need for harsh chemicals.
As with all DIY cleaning projects, your success depends on many factors. Try this strategy first and move on to stronger solutions if you need the extra help.